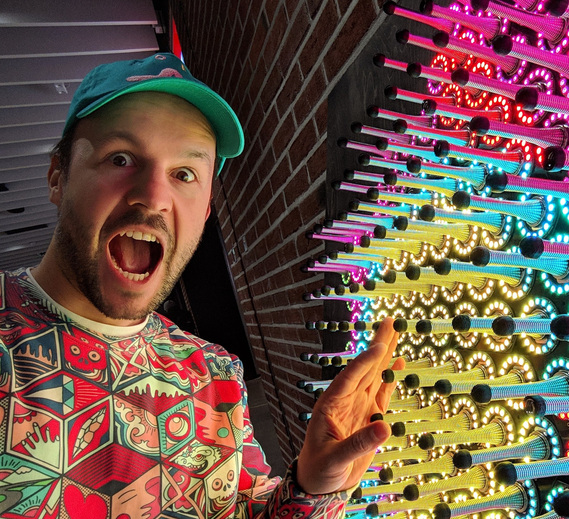 Biography
Robin Baumgarten is an award-winning experimental hardware game developer and interactive installation artist based in Berlin. After researching Artificial Intelligence in Games and working on mobile games, he is now fully focused on creating playful interactive installations that straddle the divide of games and art, such as Line Wobbler and Wobble Garden. His most recent projects also involve a scientific aspect: Quantum Garden and its larger sequel, Quantum Jungle, both visualise quantum physics in a playful yet scientifically accurate manner.
Common among all of Robin's art is tactile interactivity and immediate response: His installations invite human touch and respond with vivid and playful reactions. His medium of choice in his latest works reflects this: metal springs that wobble, dance, and push back against touch, which is measured with precise sensors and visualised on large LED arrangements that defy common grid structures.
He has exhibited his works internationally at various Museums, Art Exhibitions, and shows such as the Toronto International Film Festival, Platine Festival Cologne, Victoria & Albert Museum London, Burning Man, ZKM Karlsruhe, Tokyo Game Show and others.
CV
Robin Baumgarten was born on the 3rd of June 1982 in Dresden, Germany. He moved to London in 2006 for University, before returning to Berlin in August 2020, where he is living and creating installations now.
Robin's formal education is in computer science, he has a Master of Science in Advanced Computing from Imperial College London 2007, and pursued a PhD in AI and Games at the same University before starting a career in Video Game development.
After some time working as a freelance game developer, he started his artistic career in 2014 with the creation of Line Wobbler, a minimalist LED hardware game. With his background in game development, this installation was initially shown a lot at games events and related exhibitions, before appearing in a wider context and museums too. Line Wobbler has won 10 awards and is permanently installed in some museums and arcades and has been shown at over 100 events and exhibitions.
Selected Awards
WTF?! Award for Line Wobbler at AMAZE Berlin, Arpil 2015
Audience Award for Line Wobbler at AMAZE Berlin, April 2015

GameZfestival Creative Award Zürich, Oct 2015
IndieCade Game Design Award for Line Wobbler , Oct 2015

Jury Selection at the Japan Media & Arts Festival, Tokyo, Feb 2016
Best Game Design Award, Sense Of Wonder Night, Tokyo Game Show 2016, Japan
Best Presentation Award, Sense Of Wonder Night, Tokyo Game Show 2016, Japan
Audience Award, Sense Of Wonder Night, Tokyo Game Show 2016, Japan
Game Media Award, Famitsu Weekly at Tokyo Game Show 2016, Japan
Audience Award for Wobble Garden at AMAZE Berlin, April 2018